Music at All Saints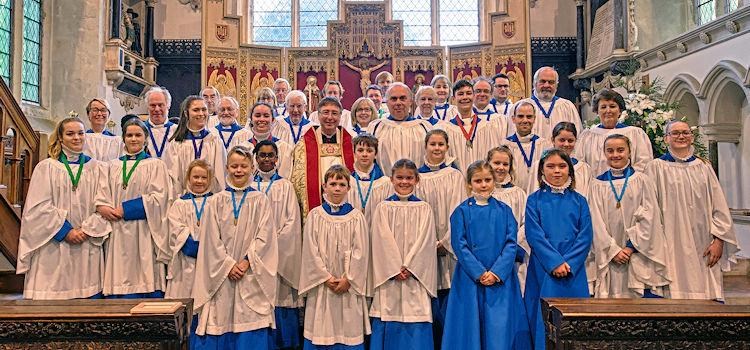 The choir has room for a few more singers. It is a big commitment, but great fun and very rewarding!  We sing in church, during weekly services, and at special events such as the Civic service and the Mayor's carol concert.  Singing scholarships for all voices and an organ scholarship are offered. You can hear an excerpt from Stainer's Crucifixion here, 'God So Loved the World'.
We often make day trips to local cathedrals to sing Evensong and every two years we organise a residential cathedral trip and sing the services for a number of days. At the end of August 2014, we spent 4 days singing the services at Hereford cathedral and were pleased that the cathedral clergy said nice things about us.
In August 2016, we sang the services at Lincoln cathedral for a full week from 22nd to 28th August. This is the music we sang during the week.
The choir's diary is available to view here and if you would like to know what music has been and will be sung in Church this year, please click on the appropriate month:
September 2017, October 2017, November 2017, December 2017 and January 2018. An index to our music library is here.
Sometimes the choir sings more ambitious pieces and recruits extra singers. For example, we sang the Mozart Missa Brevis in D (KV194) at Midnight Mass on Christmas Eve 2015 and Gilbert & Sullivan's "Trial by Jury" on March 5th 2016 to raise funds for cleaning the organ. On 7th May 2016 we joined the Stewkley Singers to sing Carmina Burana, Blest Pair of Sirens and extracts from "Candide" here at All Saints. At Midnight Mass on Christmas Eve 2016 we sang Haydn's Nelson Mass.
If you would like to join the choir or perform with the choir on special occasions, or if you would just like more information, please get in touch with:
Mr Paul Dickens
Director of Music
01525 210210 or 07939 260179