The Choir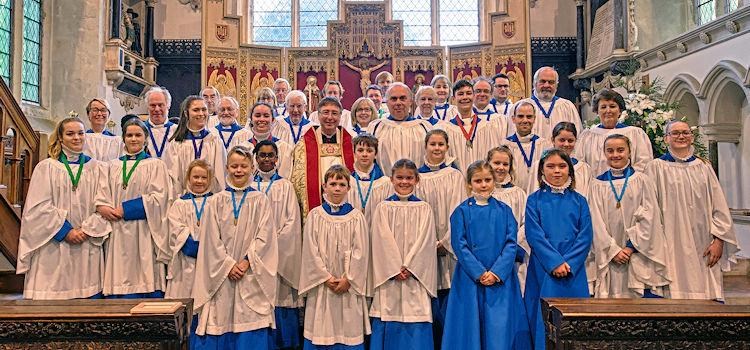 All Saints has a strong choral tradition and a fine choir with over 35 members but we are always open to welcome new members.
The Choir sings at the Parish Eucharist on most Sundays throughout the year and provides a Choral Evensong on the 1st and 3rd Sunday of each month. In addition it sings at other major Festivals.
Choir practice is on a Friday evening. Those who are in our treble section have the opportunity to develop their vocal skills through the RSCM training scheme. Some adults have also done the same.
In addition to its commitment to All Saints Church the Choir has also sung at services in several English Cathedrals including Wells, Lincoln, Hereford, Bury St Edmonds, Southwark, Coventry, Peterborough, Chichester, St Albans and Exeter. In summer 2020 we were looking forward to visiting  Exeter Cathedral again, but this was cancelled because of Covid.
We sang Evensong in Canterbury cathedral on 14th April 2023. Here is a link to the service.
For more information about the Choir's activities and membership, please see the music page on this website or contact our Director of Music, Paul Dickens, on 01525 210210 or 07939 260179.